Enjoy the Des Moines Symphony your way! Purchase a $20 streaming pass and enjoy our March concert, Spring Serenade, on demand anytime through April 16.
From the lyrical woodwind and horn melodies of Richard Strauss's Serenade in E-flat Major to Gounod, Delius and Mozart, our March concert heralds the arrival of spring
Richard Strauss's Serenade in E-flat Major, composed when he was just seventeen years old, opens our March concert with lyrical woodwind and French horn melodies. Gounod's sparkling, elegant Petite Symphonie was modeled after Mozart's wind serenades; here, it precedes the dramatic first movement of Mozart's "little" G Minor Symphony, used to great effect in the movie "Amadeus." Finally, Delius's On Hearing the First Cuckoo in Spring evokes the composer's impressions of the Norwegian countryside by using the oboe, strings and clarinet to imitate the cuckoo heralding spring.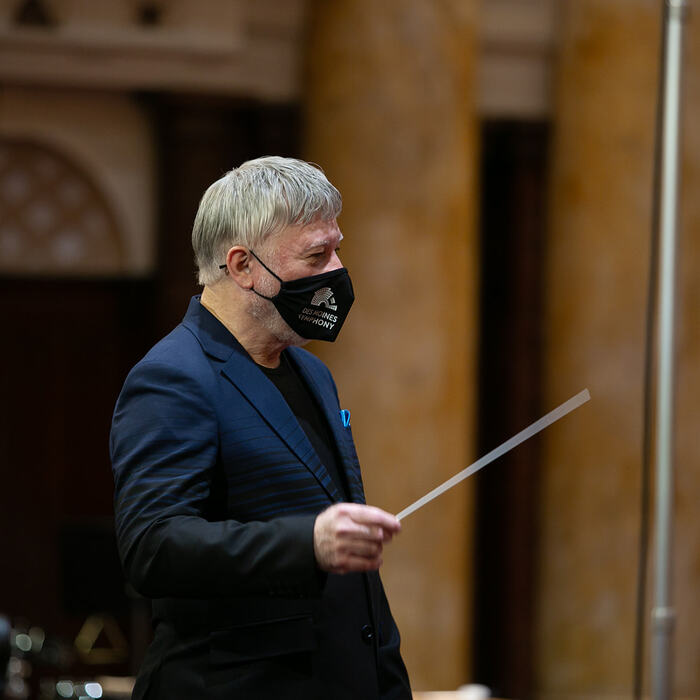 Filmed at the Temple for Performing Arts and broadcast on March 18, our Live from the Temple concerts feature a reduced-size orchestra spaced appropriately to ensure musician safety. Each broadcast features special interviews and behind-the-scenes footage, along with a post-concert Q&A session with Maestro Joseph Giunta. Click here for detailed instructions for accessing our concert broadcasts on your TV, a laptop, or even on your phone.
Click here to learn more about the program and performers, or visit the links below. 
Tickets & Access
Streaming passes are $20. Each ticket is valid for one device. Subscribers who have opted in to our streaming concerts will receive automatic access and do not need to purchase passes. 
These livestreamed concerts can be enjoyed in the comfort of your own home – and replayed at your convenience. Click here to read detailed instructions for accessing these concert broadcasts, making it easy to enjoy them on a Smart TV, a laptop, or even on your phone.
Access instructions for the on-demand concert will be sent to your email address as a purchase confirmation email from info@dmsymphony.org.